Optimised Online Shop Website with EPOS Terminals & Full Stock Management - All In One
Optimised Online Shop
Optimised Online Store
Online Business
Optimised eCommerce Website
Software Online Shop
Online Shop Software
Our EPOS systems support all 1D & 2D standard barcode types, and the mobile phone supported Scan2Buy barcodes that allow clients to purchase your goods using their mobile phone.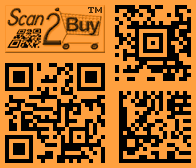 Our solutions are designed to handle all of your stock management, financial performance reporting, in-store and online sales needs.
All of our eCommerce (Online Shop) websites are fully optimised for the search engines and are W3C & WCAG Triple A (AAA) compliant as standard. They also all include a single Stock Management system covering your online and highstreet store sales. The system is designed to handle complex delivery and returns management policies. Your EPOS Terminals at all of your highstreet stores and warehouses are all automatically interlinked allowing you to manage and sell stock easier and quicker than before.
All our EPOS Terminals and Online Shops (eCommerce Websites) are / support the latest touch sensative technology.
Besides being able to sell in highstreet stores you benefit from people being able to purchase your products on any Internet enabled device (PC or mobile phone).
This really is a complete EPOS, Optimised Web, Mobile eCommerce, Stock and Returns Management Solution that your shop needs.